Kale is my new favorite base for salads. But it is really tough and a little bitter until you learn the following trick. Instead of lightly tossing kale, you almost massage it with the dressing. I squeeze it and rub it with my hands for a couple of minutes. You will feel the texture change and see it diminish in volume by almost half. Then your salad is ready to eat!
This recipe is modified from 101cookbooks.com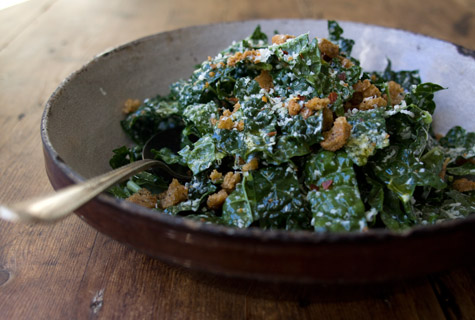 Tuscan Kale Salad
1 bunch Tuscan kale (for ex: black or lacinato)
2 thin slices country bread, or two handfuls good, homemade coarse breadcrumbs
1/2 garlic clove
1/4 teaspoon kosher salt, plus a pinch
3 tablespoons extra-virgin olive oil
Freshly squeezed juice of one lemon (scant 1/4 cup)
1/8 teaspoon red pepper flakes
Freshly ground black pepper to taste
Trim the bottom few inches off the kale stems and save for green smoothies. Slice the kale into 1/2-inch ribbons. You should have 4 to 5 cups. Place the kale in a large bowl.
If using the bread, toast it until golden brown on both sides and dry throughout. Tear into small pieces and pulse in a food processor until the mixture forms coarse crumbs, or crumbs to your liking. Mix the minced garlic and 1/4 teaspoon of salt into a paste. Add 3 tablespoons oil, lemon juice, red pepper flakes, and black pepper and whisk to combine. Pour the dressing over the kale and mix/massage it very well (the dressing will be thick and need lots of tossing and rubbing to coat the leaves).. Let the salad sit for 5 minutes, then serve topped with the bread crumbs.